All my knives are made from high carbon steel, the best I'm able to find. Carbon steel is preferred by many knife users because of it's ease of sharpening, the fine edge it takes, the feedback it gives in the cut and an inherent spring and liveliness that stainless steel lacks. Carbon steel's capacity to patinate over time also gives it a life and character and "personal history" that leaves stainless steel looking dull and sterile. From a bladesmith's perspective, carbon steel is also just a much nicer and more natural material to work than stainless.
For the handles, I use only sustainably managed hardwoods. These woods may lack some of the visual opulence of exotic tropical hardwoods, but they also lack the bad karma that goes along with destroying endangered ecosystems. I also use bog oak, which is a slightly special case as it is wood that has been dead for 2-4 thousand years!
Please be aware that my knives will change and patinate over time. To be at their best they require input from the user in the form of basic care and maintenance, a bit like a really nice pair of leather shoes.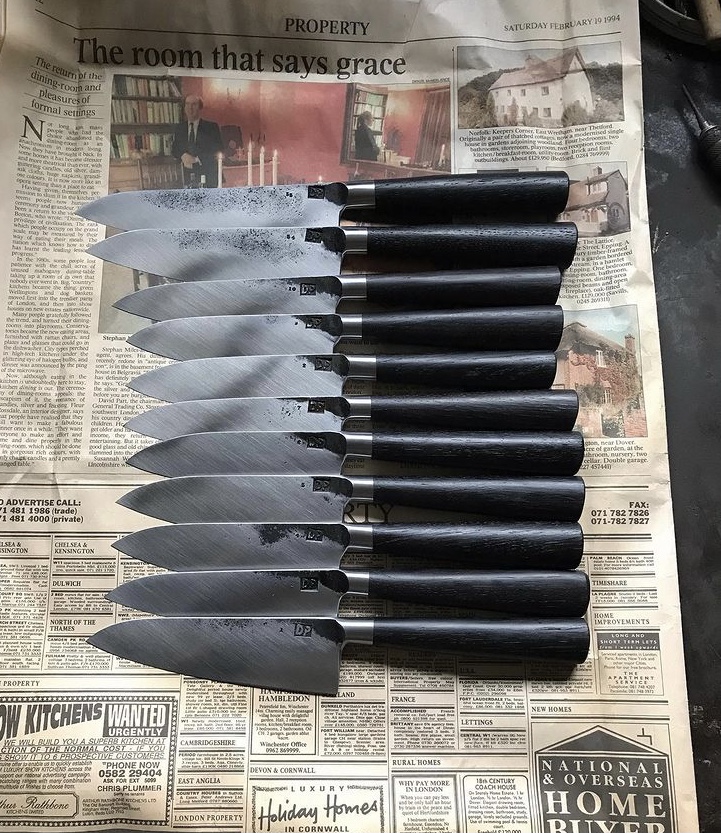 My knives are all entirely made by me, by hand. I forge the steel, grind it, glaze it, heat treat it, sharpen and handle the blade all myself. Using the knowledge and experience I've gained over the years I produce a knife that offers superior function, solid craftsmanship and a simple, rustic aesthetic, and I stand behind each of my knives 100%. Please see my no-nonsense guarantee in the lower navigation bar.
Dan Prendergast Knives